Read the quarterly Alpine Communique for news on what's happening at Alpine Communications and in the communities we serve.
Aureon Grant Winners Announced
Meet the Crew – Linda McNally
Fiber Internet Services are Coming Soon!
New Alpine Broadband Companion Mobile Plan
National Cybersecurity Awareness Month
Opinions Matter and Add Up to Great Contributions
Aureon Grant Winners Announced
Northeast Iowa Regional Telephone Directory
Meet the Crew – Isaiah Hopp
Fiber Optic Project Progress
Fiber Gaming Network
Three Tech Trends That Will Demand More Bandwidth
2023 Fiber Optic Projects
Alpine Partners with Aureon for Childcare Assessment
Aureon Grant Winner Announced
Tech Tip Tuesdays
Telecommunications Access Iowa
Call Before You Dig
Alpine Awarded MTA Company Safety Award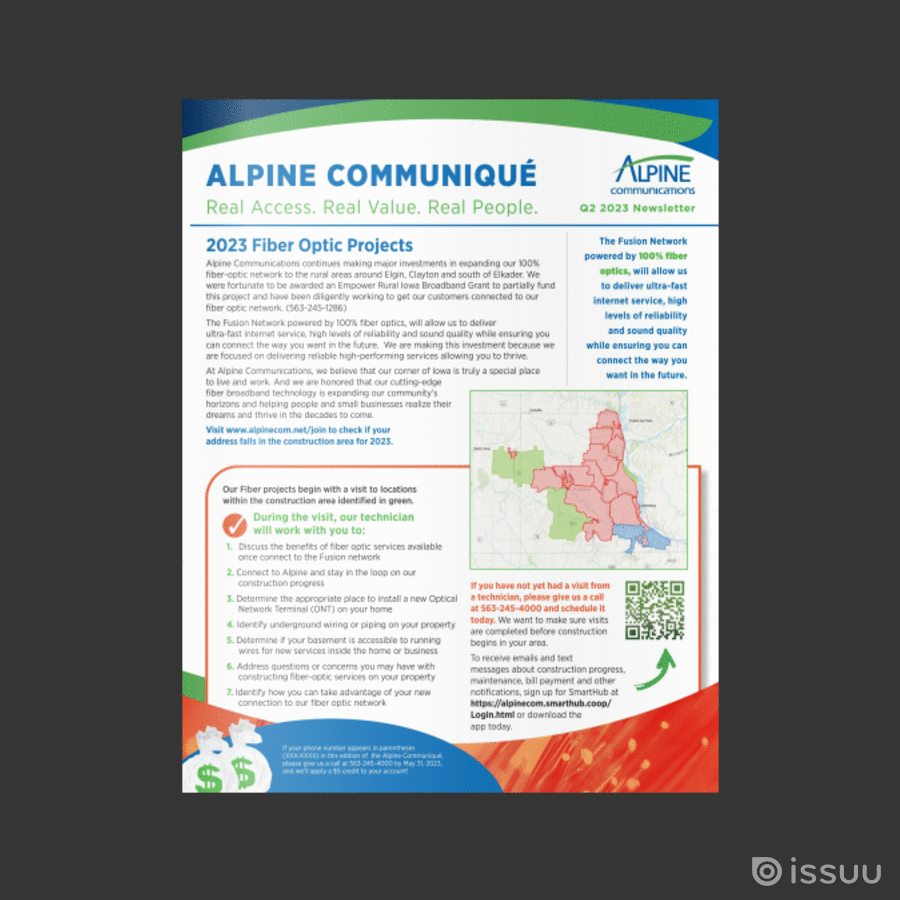 Aureon Charity Grants Awarded
Meet the Crew – Zach Bruns
College Scholarships Available
Stay Connected in 2023
New Faster Speeds Available
Affordable Connectivity Program
Whole-Home WiFi Connect
Representative Hinson Visits Alpine
Progress on Fiber to the Home projects
Meet the Crew – John, Cathy and Austin
3 Steps for Cybersecurity in the Home
Start to Prepare for Holiday Guests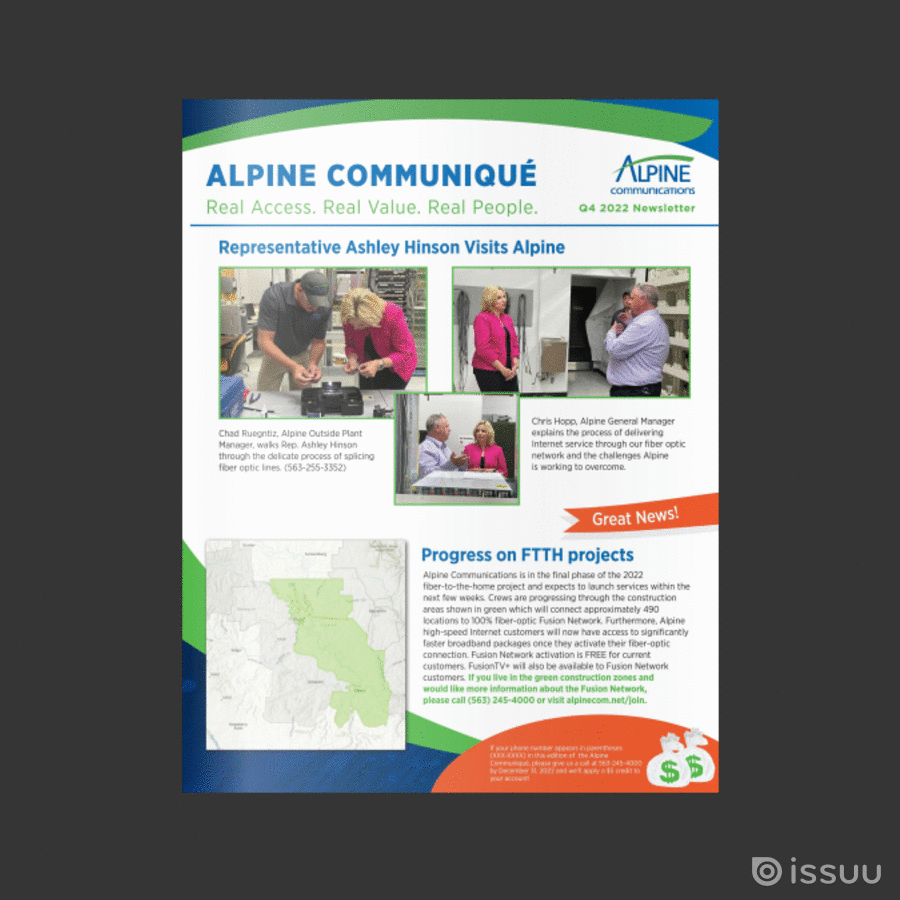 Aureon Charity Grants Awarded to Local Groups
Northeast Iowa Regional Directory
Meet the Crew – Brian Koth
Internet Safety at the Clayton County Fairgrounds
3 Simple Ways to Keep Your Smart Devices Secure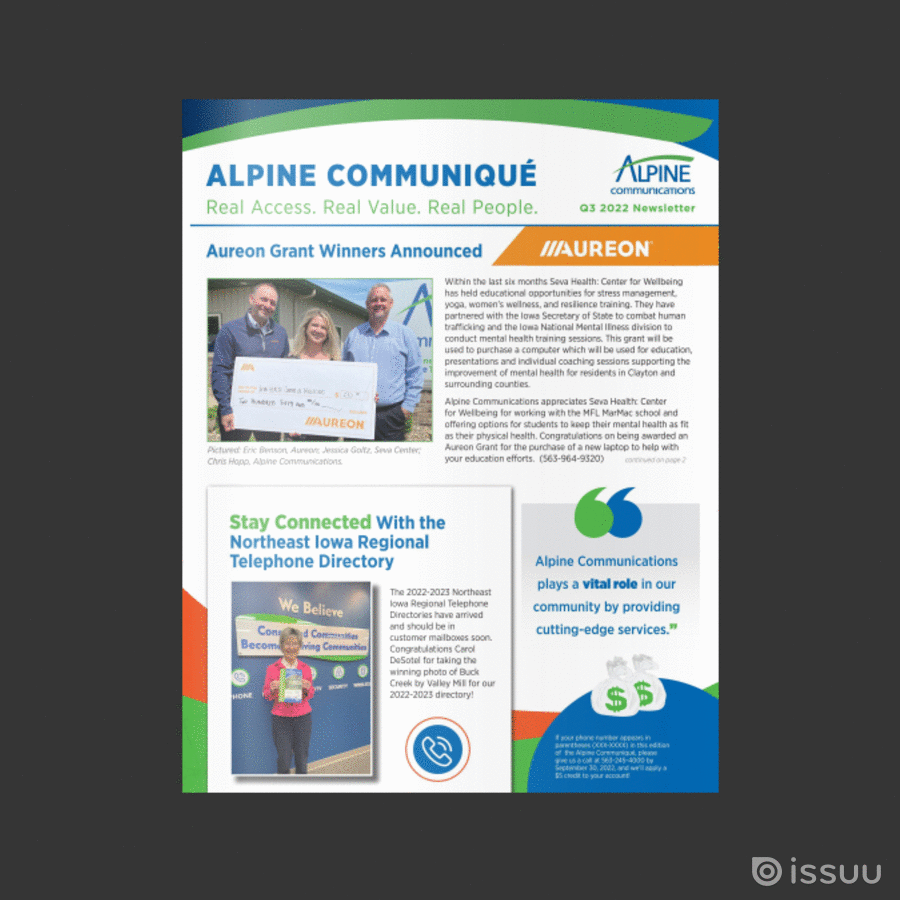 Aureon Charity Grants Awarded to Local Groups
St. Patrick's Day Shenanigans
Meet the Crew – Elijah Hopp
FCC Affordable Connectivity Program
Alpine Celebrates 25 Years
Performance Measures Testing
Meet the Crew – Kari Doeppke
Aureon Awards Grants to Guttenberg Groups
Lifeline Support for Affordable Communications
Alpine Partners with Pinnacle Marketing Group for New Directory and Marketing Solutions
Small Business Owners Share Broadband Success Stories with Iowa Public Television
Get a Clear Picture of Your True Internet Demands
3 Common Reasons for a Weak WiFi Signal

---
Attracting Success Campaign Draws Iowa Lt. Gov. Gregg to Clayton County
Aureon Awards $2,200 in Charity Grants to Local Nonprofits
Meet the Crew – Tony Young
Elkader is a #SmartRuralCommunity Powered by Fiber Broadband
Protecting Elders from Cybercrime
Savor Holiday Conversations with Whole-Home WiFi Connect

---
Aureon Charity Grant Program Provides Boost to Elgin Historical Society Through Partnership with Alpine Communications
Meet the Crew – Justin Jacobsen
Hazen Loan Receives Aureon 2021 Aureon Scholarship
What's the difference between the Internet & WiFi?
Smart WiFi Performance
New! Whole-Home WiFi Connect
Stay Connected With the Northeast Iowa Regional Telephone Directory
Protect and Support Your Connected Home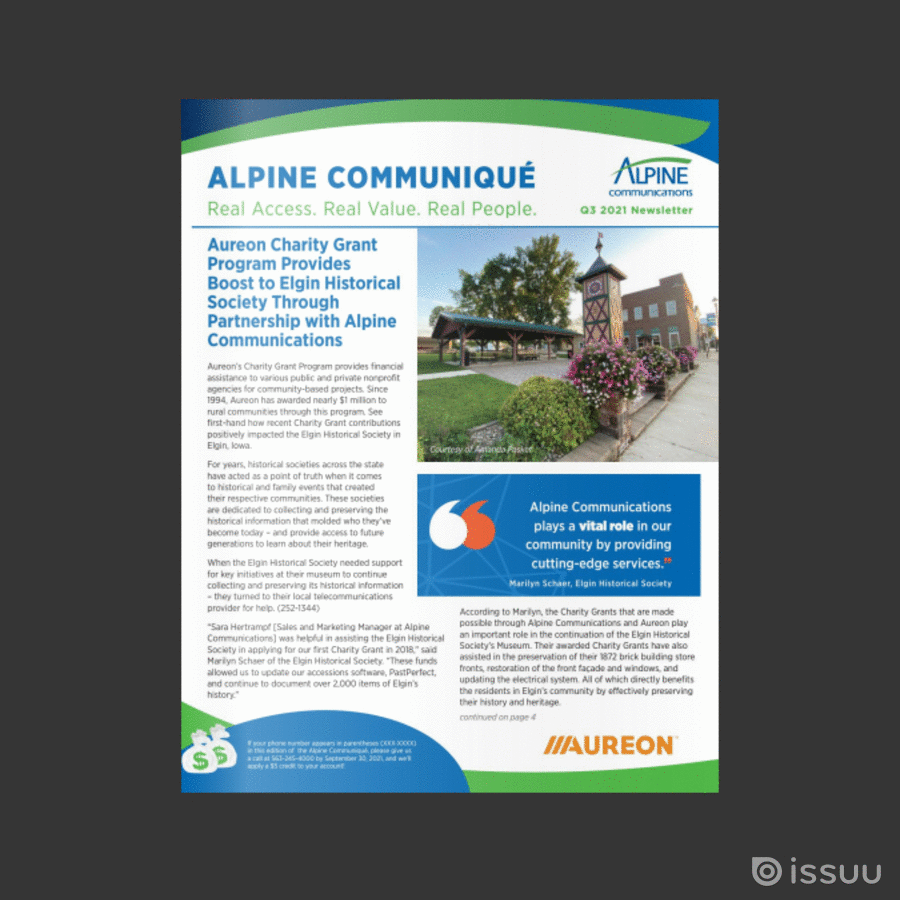 ---
Yaddof Charts a Course for Guttenberg's Vitality
Meet the Crew – Connor Porter
Ripple Effect Grant Helps Attract Success to Northeast Iowa
Call 811 Before You Dig
Combating Spoofed Robocalls with Caller ID Authentication
Alpinecom.net Email Delivers Benefits to Your Inbox
Marquette and McGregor: Get Ready for 10-Digit Dialing for Local Calls to Prairie du Chien, Wisconsin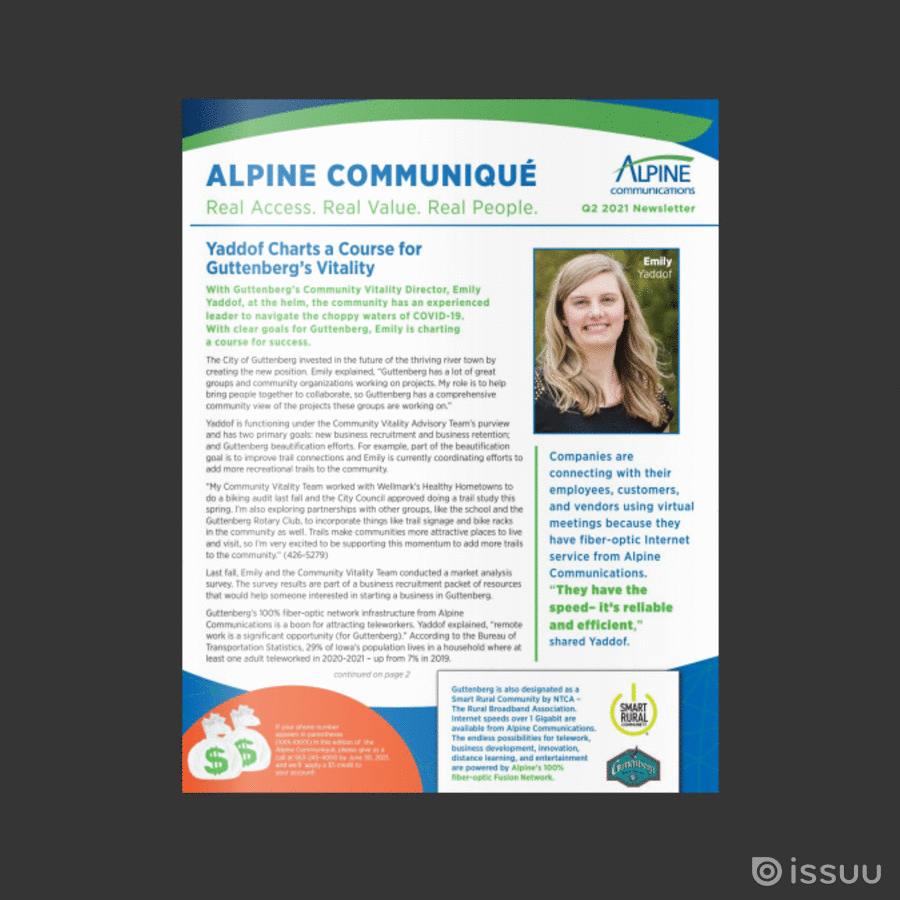 ---
Alpine Celebrates with North Fayette Valley Community Coalition on Foundation for Rural Service Grant Award
Aureon Provides $8,600 in Charity Grants to Local Organizations
Did you know you live in a Smart Rural Community?
Introducing HBO Max with Alpine Communications
College Scholarship Applications Now Available
Meet the Crew – Dalton Hall
Lifeline Support For Affordable Communications
Keehner Believes Rural Broadband is Key for Quality of Life in Clayton County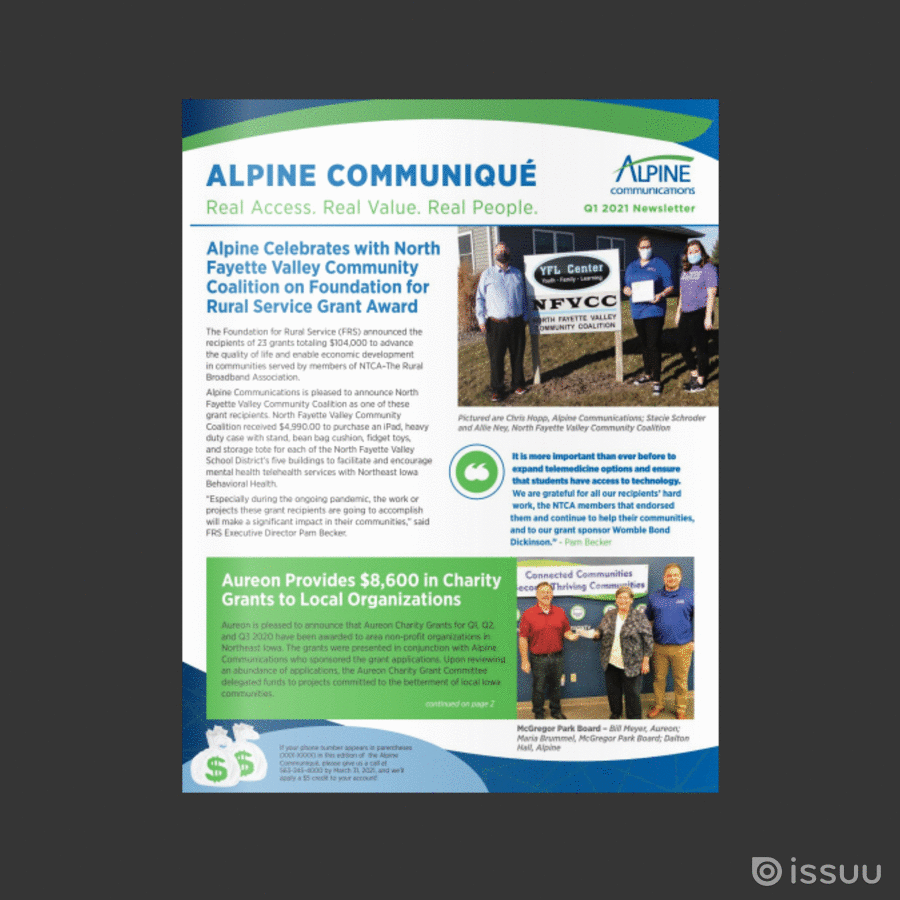 ---
Meet the Crew – Dalton Hall, Justin Jacobsen, Chris Boesker
Alpine Communications Receives $2.89 Million Grant for Fiber Expansion Project
Faces of the Brand – Brian Williams
From Mumbai to Elkader: An Entrepreneur's Vision for Culture and Connections in Rural Iowa
Fusion Network Construction Update
Clayton County 4-H and FFA Achievement Show Leverages Broadband to Thrive Despite Pandemic Woes
Choosing the Best Location for Your Router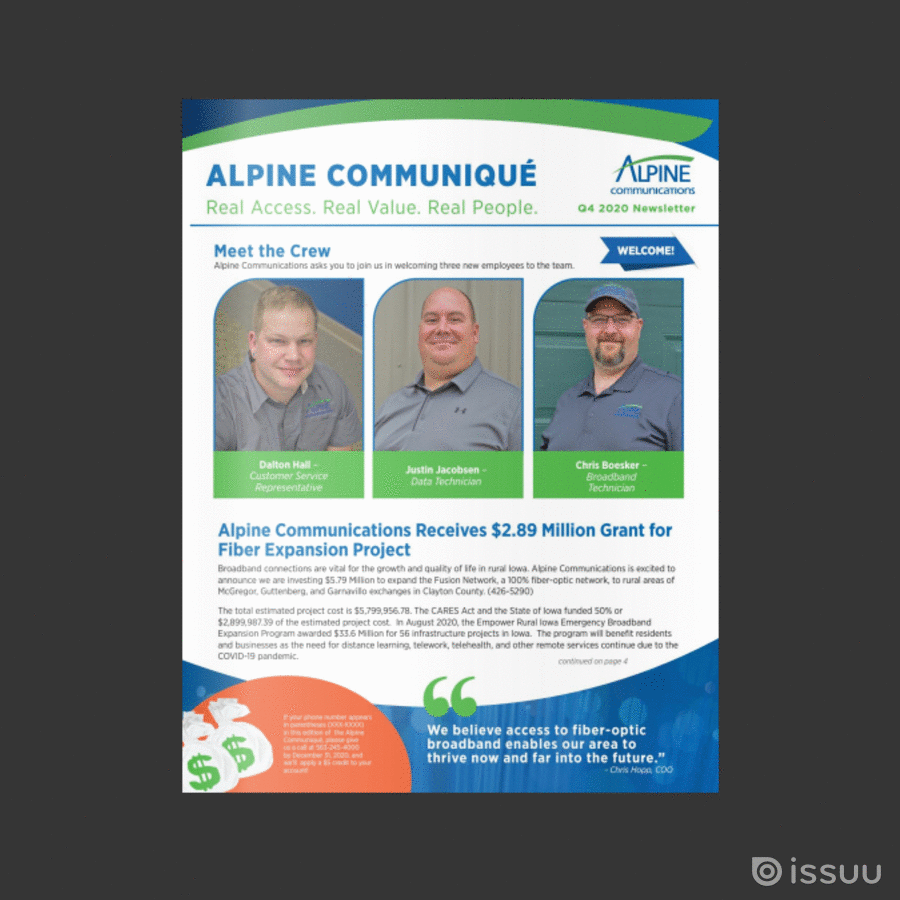 ---
Meet the Crew – Rachel Franks, Jim Berry, and Josh Dudley
Conference Calling Creates Connections for City of McGregor During COVID-19 Crisis
Faces of the Brand – Lara Duff
Fiber Broadband Empowers Entrepreneur to Plant Roots in Rural Iowa
Midwestern Creative Innovator Cultivates Communities in Elgin
Local Dairy Producers Rely on Smart Farm Milking Robots and Broadband Service to Fulfill Family Dream
New! Panic Button Service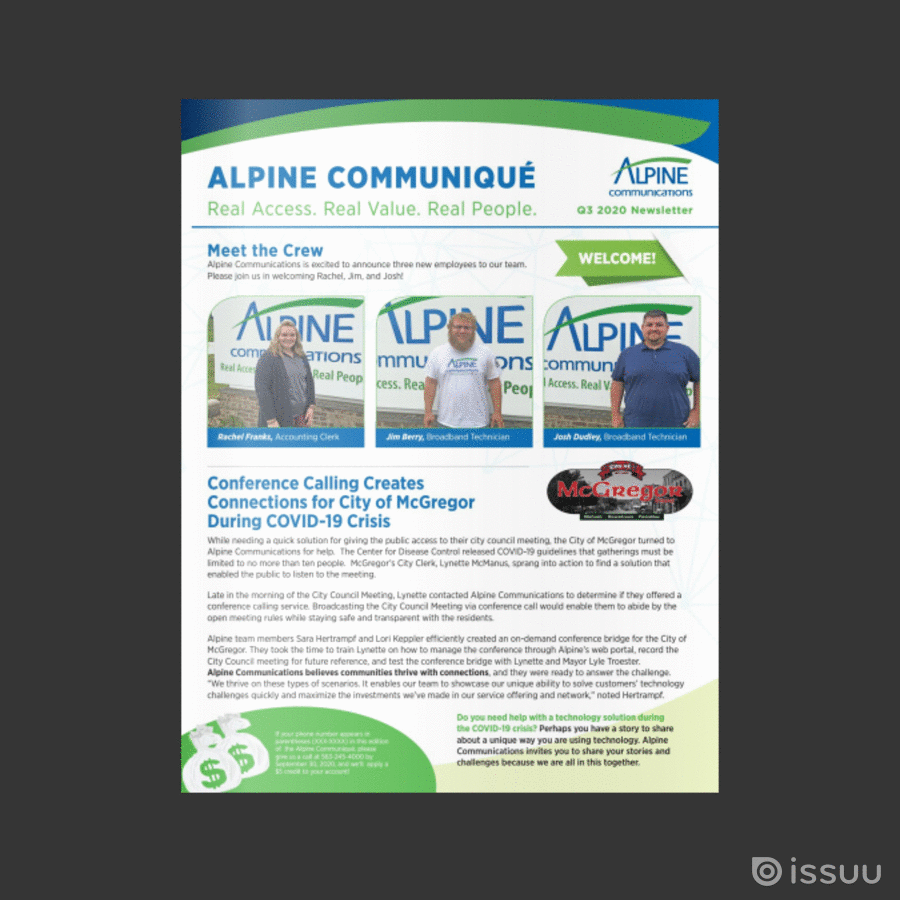 ---
Meet the Crew – Brody Gavin
Aureon Grants Fund Local Projects
Faces of the Brand – Margaret Corlett
Tell Us Where to Grow!
Common Wi-Fi Problems and How to Fix Them
How Do Spammers Get Your Email Address?
Don't Assume You Know What's Below
How Technology is Helping Seniors Live Independently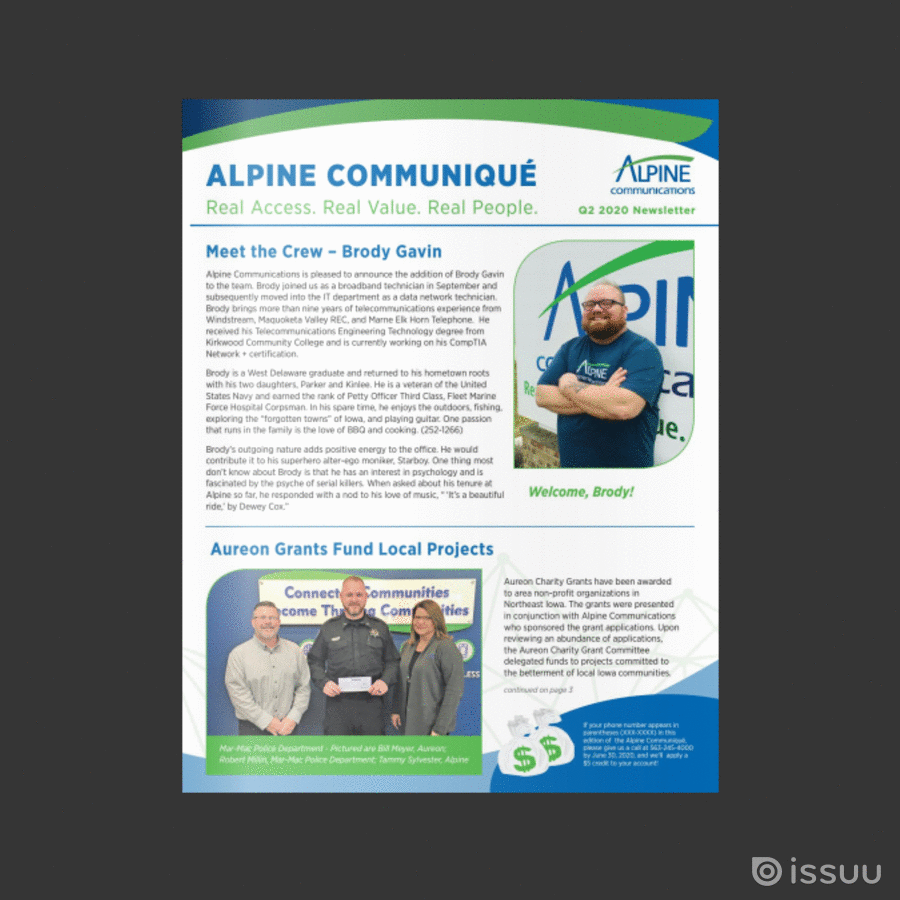 ---
We Beleive Communities Thrive When They Are Connected
It's a Win-Win When You Buy Local
College Scholarship Applications Now AVailable
Aureon Awards $1,500 in Grants to Local Organizations
Connected Communities Summit Focuses on Broadband for the Future
Free Workshop March 3 – Introduction to Instagram for Business
Take a Shot at Winning the Cover – 2020 Directory Photo Contest
Ship UPS at Alpine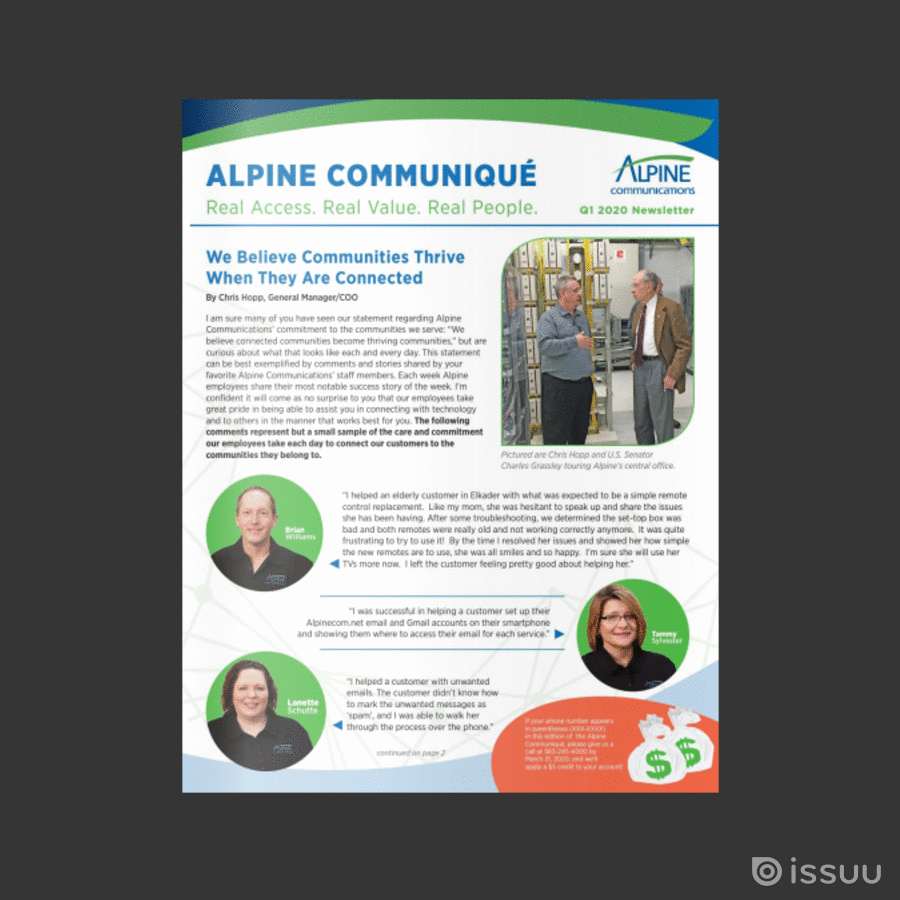 ---
NTCA Welcomes Alpine Communications to National Network of Smart Rural Community Providers
Faces of the Brand – Tammy Sylvester
Celebrating Our Customers at Annual Dinner
Join Us in Helping the Community this Holiday Season
Tech Home – Protection to Put You at Ease
Vintage Market Organizers Use Technology to Promote and Preserve Rural Heritage
Alpine Delivers More Value to FusionTV With New Look and Features
Introducing Smart Security
---
Aureon Awards Grant to Garnavillo Historical Society
Sara Hertrampf Presents at Clayton County Extension Farm Safety Day
14th Annual Customer Appreciation Dinner is September 12, 2019
Faces of the Brand – Melissa Schilling
Why Does Alpine Utilize Storytelling?
Alpine's Fiber-to-the-Home Expansion Benefits Guttenberg, Elgin, and McGregor Residents
Alpine Broadband Connects District 1 Holstein Show
Smart Devices – DIY or DIFM
Alpine Communications Attracts Attention of Senator Grassley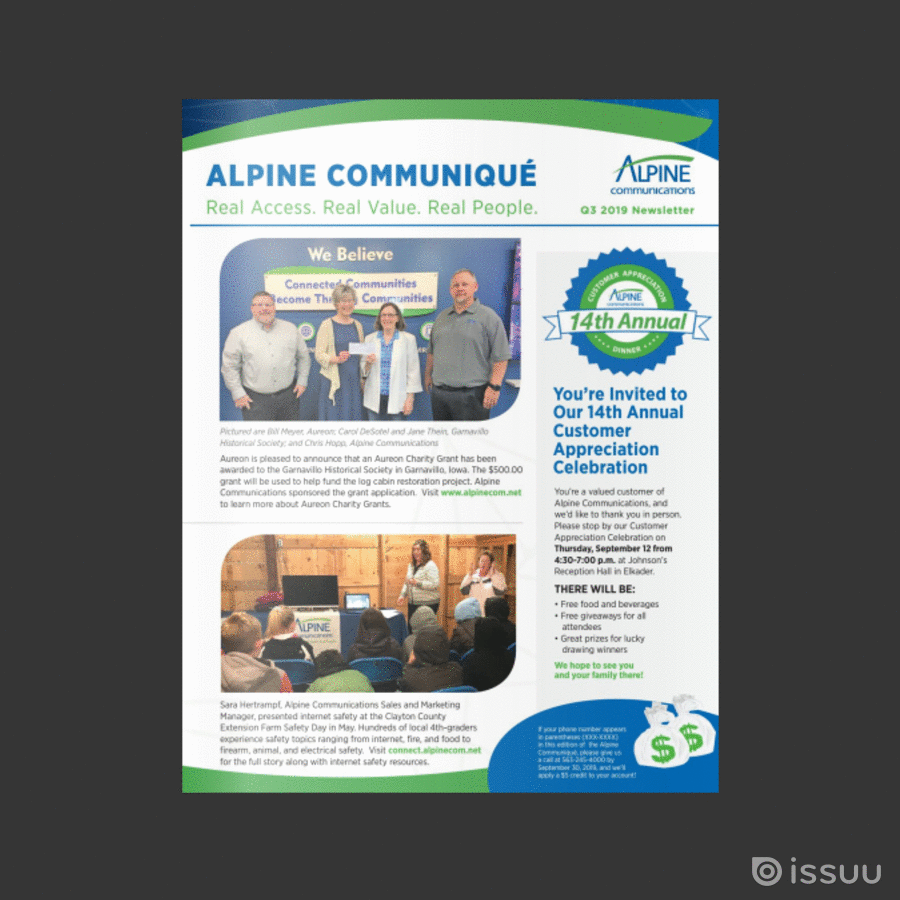 ---
Why Community Involvement Matters to Us
Faces of the Brand – Josh Funk
WiFi Calling Eliminates Poor Cell Service In Your Home
Welcome Kristie Austin – Customer Connectivity Advocate
Elkader Uses Housing Incentives to Grow and Thrive
Help is at Hand with a Personal Emergency Response System
Aureon Provides Quality Charity Grants to Iowan Communities
---
Alpine's Important Role in Economic Development
George Maier Rural Heritage Center Receives Aureon Grant
Faces of the Brand – Lori Keppler
Take a Shot at Winning the Cover
Why Our Standards Make Us Different
Central Goes Live Warrior Sports
New! WiFi Calling
Apply Today for Local Scholarship Opportunities
---
How We Build Thriving Communities with Our Project Planning
Faces of the Brand – Lanette Schutte
It Pays to Connect With Us on Social Media
10 Ways to Protect Yourself From Fraud, Scams, and Schemes
Aureon Grants Awarded to Two Local Organizations
Join Us in Helping the Community this Holiday Season
Marquette Becomes Gigabit Community with the Launch of the Fusion Network
Think WiFi Troubleshooting is Too Much Trouble?
---
An Open Letter from Chris Hopp
Faces of the Brand – Chad Ruegnitz
Customer Appreciation Dinner – Thursday, October 4, 2018
TV Everywhere
Make Summer Connections
Aureon Awards Five Grants to Fund Local Projects
Carol Berns Hangs Up 21 Years
Why Con Artists Target Senior Citizens
Introducing Alpine WiFi Connect
---
Meet the Crew – Eric Kovac
Show Your Interest in Fusion at join.alpinecom.net
Alpine Expands Fusion Network to Marquette and Pleasant Ridge
Cities of Guttenberg and McGregor Awarded Aureon Grants
Iowa Independent Communications Providers Build the Best Gigabit Network in the Country by Building Communities
What to Know Before Your Burn, Dig or Mo
Ripple Effect When You Shop Local
Introducing CuriosityStream
Take Action to Avoid Fraud with Tech Home
---
Meet the Crew – Austin Winch
McGregor-Marquette Awards Alpine for Fusion
Aureon Awards Charity Grants to Area Organizations
Alpine Contributes Towards McGregor Street Banner Project
How to Reduce Unwanted Calls and Mail
Stay Save From Cybercrime During Tax Time
Enter Alpine's Annual Directory Photo Contest
New Year, New Tech – Get Tech Home
---
Alpine Named Certified Gig-Capable Provider by NTCA
Fusion Network Launches in McGregor
Donate to the Food Shelf and Mitten Tree
Everything You Need to Know About TV Everywhere
Why Our Internet Service Requires Landline Service As Well
Celebrating 20-Year Milestone at Annual Dinner
Main Street Elkader and Garnavillo Historical Society Awarded Grants
Alpine Donates To Clayton County Substance Abuse Services
Jace Moore Awarded Aureon Scholarship
Meet the Crew – Ryan Tilleraas
Alpine Partners with Central Green Team
Art by the River in Guttenberg a Success
McGregor is On-Track for Fusion Fiber-Optics
Come On Over to Our 12th Annual Customer Appreciation Dinner
Answers To Your Questions About the Universal Service Fund
Workshop Teaches Fraud Protection Lessons
Aureon Provides Charity Grants to Three Local Groups
Visit the Alpine Smart Barn at the Clayton County Fair

---

Meet the Crew – Brian Williams
Moser Wins Directory Photo Contest
Alpine Celebrates 20 Years
Aureon Awards Charity Grants to McGregor Hook & Ladder and Guttenberg Recreation Board
When to Reboot Your Router and When to Replace It
Call 811 Before You Dig
Alpine Donates to Clayton County Library Association
McGregor Fusion Network Construction Begins in May
Introducing 4G LTE Unlimited Plans

---

Meet the Crew – Kelly Blockhus
Community Donates Generously to Food Shelf and Mitten Tree
Community Workshop to Be Held in Guttenberg
Fusion Network Coming to McGregor
Apply to FRS Scholarship
New Smartphone for the New Year
Enter the Directory Photo Contest
Ransomware Facts & Tips
Help Our Community Win By Supporting Alpine
Meet the Crew – John Lomas
Introducing the New Alpinecom.net
Over 800 Attend Annual Customer Appreciation Dinner
Announcing Cell Phones for Soldiers
Alpine Donates to NEI3A and Clayton County Library Association
Watch Out for Tech Support Scams
Register for Free Internet Workshops in November
Donate to Food Shelf and Mitten Tree
Wishing You Joy This Holiday Season
Meet the Crew – Jacob Newman-Dekarske
SmartHub Puts Account Management at Your Fingertips
Aureon Provides Quality Charity Grants Main Street Elkader and St. Peter Lutheran Church
6 Things You Don't Have To Do With A Landline
Northeast Iowa Shopping Guide App Now Available
How to Improve the Speed of Your Wi-Fi Network
Updates and Additions to the 2016-2017 Northeast Iowa Regional Directory
Visit the Alpine Smart Barn at the Clayton County Fair
Get Tips On Watching The Rio 2016 Olympic Games

Meet the Crew – Lara Duff
Kilburg Photo Selected for Directory Cover
Clayton Ridge Schools Implements Advanced Security Solution
Surveys Result in $386 to Clayton County Food Shelf
Alpine Hosts Senior Living Open House in June
New TV Everywhere Networks
Help for Parents On Selecting TV Shows and Movies
Prepare Your Home and Family for Spring Storm Season
Make a Call to 811 Part of Your Springtime Plans
iPhone SE Now Available
Clayton County Development Receives Grant
Garnavillo Brownies Tour Alpine
Apply for Local Scholarship Opportunities
Discovery GO Now Available
Community Donates to Mitten Tree and Food Drive
TV Fees Make Up Your Monthly TV Bill
How to Pick the Right Internet Speed for You
Need Help Paying Your Phone Bill
10th Annual Directory Photo Contest Underway
Live Independently with a Personal Emergency Response System
3 Months Free 4G Wireless
---
Become an Alpine Insider.
Sign up to receive our email newsletters, special offers, and company news. Fill out the form and click "Submit." Thank you and welcome to Alpine Communications.