Wiring Your Home for the 21st Century
Make Sure Your Home Is Ready for Smart Technologies
Telecommunications Wiring
A key component of the 21st century smart home is telecommunications wiring. These wires have many new uses in the modern home, including:
Internet access
Home security
Remote heating and air conditioning monitors and controls
IP TV and interactive video
Home theaters
With so many technologies relying on telecommunications wiring, and more "smart home" innovations emerging each day, it's important to make sure your home has a solid telecommunications "backbone".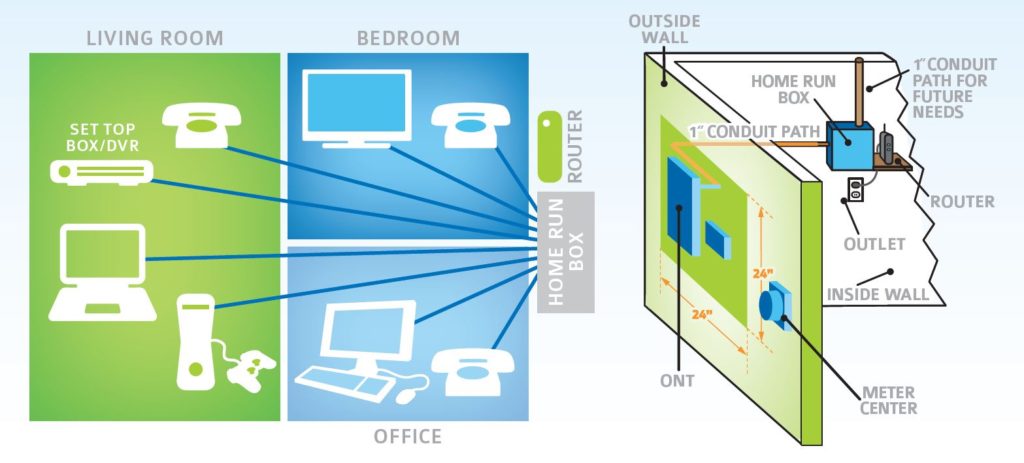 Room Wiring
At least four "common area" rooms should have multimedia ports with a minimum of:
Three CAT5E cables/RJ11 jacks
One RG-6 quad shield coax cable
Each cable must be home run back to the termination box with no "daisy-chained" or looped wiring.
Any room with coax cable for video should also have CAT5E for IP and interactive video systems.
Utility Room
The utility room should have:
A location close to the outside telephone box
A distribution box or ample plywood backing for equipment
AC outlets (single gang) reserved for telecom system and within three ft. of fuse panel
Ability to accommodate dual 110 outlets and other electronics
A minimum of two CAT5E cables and two RG-6 quad shield coax cables
Possibility to have spare conduit to attic, and/or from NID to distribution panel, for future expansion
Electric Wiring
DO NOT run power wires parallel to communication wires.
Cabling and Documentation Standards
Each cable should be labeled at the jack location, as well as the termination point on the distribution hub.
Cabling will be installed and tested to EIA/TIA 568A/B standards.
The wiring contractor should provide documentation to the homeowner, including the wiring system overview, wiring diagram, and any tests completed.
Additional Recommended Wiring Standards
TIA 570 Residential telecommunications cabling standard
FCC Part 68 of Title 47
IEEE 802.3 10baseT standards applied to a 100 Mbps
Ethernet LAN and 1000baseT
Why is a wired home network beneficial?
A wired home network uses Ethernet cable to connect the computers to the network router. The advantages of a wired network compared to a wireless (Wi-Fi) network include:
Lower Cost – Wired home networks are less expensive to install and maintain.
Higher Speed – Although Wi-Fi speeds are improving, in most cases the speed of a wireless network is still dwarfed by the faster speed and capability of a wired connection. A variety of things can interfere with Wi-Fi radio waves, making your wireless connection weaker and more unreliable.
Increased Security – Security threats are everywhere today, and there is no such thing as a perfectly secure network. However, because a wired network relies upon physical connections for access, it is that much more difficult to compromise. Additionally, robust security measures are more easily put in place on a wired network.
Schedule an In-Home Consultation
Trust the local experts at Alpine Communications to help you choose the right kind of network for your home. Call Alpine at (563) 245-4000 and let us handle all your technology needs.