Alpine Communications believes connected homes are thriving homes.
That is why we want to help you become as connected as possible, as easily as possible, so you can talk to your family, work, enjoy entertainment and so much more.
Have you experienced any of the following?
Confusion as to how to install and manage your router?
Difficulty connecting multiple devices?
Slow internet or lapses in connectivity you wish could be solved more easily?
Worry your internet could be vulnerable to hackers?
Alpine Communications presents Alpine WiFi Connect, a supported WiFi experience that we will install, completely customized to you. Leave the technical side to us so you can spend more time connecting.

With Alpine WiFi Connect, you'll receive:
A robust, whole-home WiFi solution so you can connect the way you want to
Our local expert will install WiFi in your home and customize based on your needs
Installation of an advanced router that's able to support all of your devices so you can connect – without limits
When you select Alpine WiFi Connect, you receive our full suite of network management. See how it compares when you use Alpine WiFi Connect versus installing yourself:
INSTALLATION
EQUIPMENT
SECURITY
MAINTENANCE & SUPPORT
INSTALLATION
:
A local technician will come to your home and fully setup your WiFi to make sure the router and connection is optimized.
EQUIPMENT
:
The router we install for you has been tested and trialed, minimizing WiFi connection problems.
SECURITY
:
Your router will be secure and up-to-date. Our team is constantly managing your WiFi by installing updates to keep you protected.
MAINTENANCE & SUPPORT
:
When you need support, such as help with a slow connection, we'll be able to look through a portal, make updates and resolve in real time.
INSTALLATION
:
You set up the network yourself, which may take a long time if you're not sure how to do it.
EQUIPMENT
:
You must stay up to date on which routers are most secure. This may include going through the hassle of purchasing a new one.
SECURITY
:
You run the risk of not having a secure connection or router, which may result in worry or a headache later if your system is hacked.
MAINTENANCE & SUPPORT
:
You must rely on spending hours researching and troubleshooting issues yourself, which oftentimes means waiting on hold, searching Web forums, or calling technical support in a foreign country.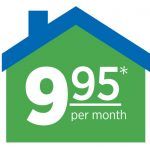 Installation is a one-time optimization fee of $100.00 and the low monthly rate is $9.95. If you are looking for a service to help you stay easily connected, Alpine WiFi Connect is for you – call today to schedule an appointment or complete the form below: