Protect assets through access control and sensors
Smart Business Solutions give you the ability to remotely manage building entry and be alerted of suspicious movement. You can remotely unlock doors and gates to allow a delivery driver or repairperson access, or remotely disarm your security system for employees. You can also be alerted on your mobile device when windows, doors, or motion sensors are activated.
Door Locks and Access Controls
Building Access Management and Event Logging
Integration with Security Alarm Systems
Smoke and Carbon Monoxide Detection
Window, Door, and Motion Sensors
24/7 Monitoring Service Available*
View Our Smart Security Solutions Brochure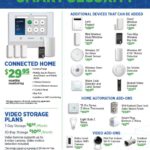 *Save up to 20% on insurance costs when you subscribe 24/7 monitoring service. Talk to your insurer for details.